Upgrading of Cold Pilger Mills (HPT)
"Institute Tsvetmetobrabotka" performs modernization of older HPT mills, including the following mills: KPW 25, 50, 75, 100, 125, 150 VM and VMR of SMS-Meer company design with differential-cam feed and turn mechanism, HPT 32, 55, 75, 90 mills of EZTM company design with feed and turn mechanism of reducing gear type, HPTR mills of VNIIMETMASH and AZTM companies design and others...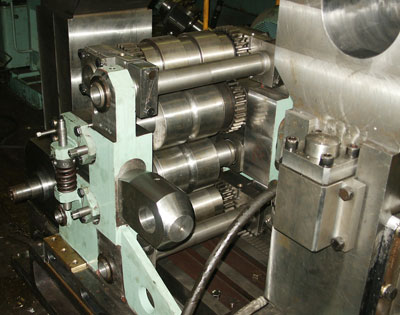 HPT-32P mill working stand after upgrading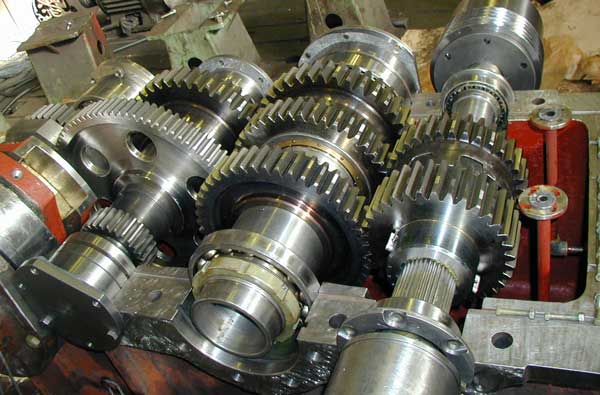 HPT-32P mill feed and turn mechanism after upgrading
It is expedient to include in modernization scope the following:
replacement of working stand with movable forced housing and dies of half-disk type by working stand with stationary forced housing and movable cassette with ring type dies of reduced diameter resulting in a mass of movable parts is decreased by half, technological capabilities, depending on quality of finished tubes, are improved and the range of rolled tubes is increased, durability of bearing units is increased;
replacement of feed and turn mechanism with overrunning clutches by mechanism with planetary-crank transformers of continuous rotation into intermittent rotation which provides with stable feeding and as a result quality of rolled tubes is increased, there are no fast wearing items, it is installed into existing body that sufficiently decrease mill modernization cost; otherwise complete replacement of mechanical transformer of continuous rotation into intermittent rotation of feed mechanism by servomotors;
replacement of rod chuck, inlet and outlet stationary chucks operating from the main drive through transmissions by new chucks with individual drives.
Modernization allows to realize various technological rolling schemes with possibility of switching over subject to type and requirements to the finished product:
double feed and double turn;
double feed and single turn in back position of working stand (for rolling of profile tubes);
feed and turn only in back position of working stand.
To reduce the labor costs and improve quality of hard deformed tubes the equipment scope for modernization can include new cutting devices for tube cutting both in stationary execution (outside of rolling line) and in "flying" execution, i.e. in mill rolling line. Furthermore, equipment composition for modernization can include any other unit of cold rolling mill the operation of which does not satisfy the Customer.